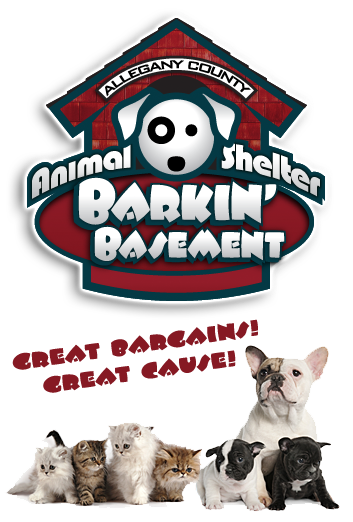 BARKIN' BASEMENT THRIFT SHOP
45 Baltimore Street
Cumberland, MD 21502
301-777-0826
Open Thursdays – 10am-5pm
Fridays – 10.m-6pm;
Saturdays – 10am-5pm
Sundays – 11am-4pm
www.barkinbasementthriftshop.com    
The Allegany County Animal Shelter Management Foundation opened Barkin' Basement Thrift Shop in May, 2012 to benefit the homeless animals at the Allegany County Animal Shelter. When you support the efforts of Barkin' Basement through donations and purchases, you help us support the homeless animals under our care.

The Barkin' Basement is a great place to shop! It's fun – you never know what treasures you're going to discover.
It's good for your wallet – you can pick up great items for a fraction of the original price. It's environmentally friendly – usable items that may have landed in the landfill, don't. The best part of shopping at Barkin' Basement is that you're helping to support the efforts of the Allegany County Animal Shelter and our homeless shelter animals.
What can you find at Barkin' Basement? 
• Clothing and Accessories (shoes, purses, ties, scarves, hats, gloves)
• Costume Jewelry
• Collectibles and Antiques
• Small Furniture Pieces
• Lamps and Light Fixtures
• Linens
• Tools and Hardware
• Books – Hardback and Paperback
• Toys, Games and Puzzles
• Small Appliances
• Pottery
• Home Décor
• Housewares
• Art, Pictures and Frames
• Sewing/Crafts
• LPs, CDs and DVDs
• Pet Supplies
And a whole lot more!